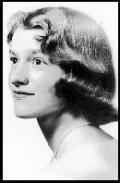 STURGES Ellen Read Leeds Sturges died Tuesday, February 8, after a seven year illness with cancer. She was 71 and a life-long resident of Southport. Ellen was an accomplished and artistic interior decorator, antique enthusiast, (horticulturist, group singer, skier, hiker and lover of the outdoors.
She was a descendant of Thomas Hooker, founder of the Connecticut Colony. Born in New York, in 1939, the daughter of the late Arthur Fuller and Muriel Atkinson Read Leeds of Southport, she was a great granddaughter of David F. Read, founder of the former Read's Department Store in Bridgeport. Her maternal grandparents were Charles Barnum Read and Eleanor Atkinson of Bridgeport. Her paternal grandparents were Norman, Sr. and Frances Fuller Leeds, also of Bridgeport. Ellen was a graduate of the Unquowa School, St. Mary's in the Mountains (now the White Mountain School), Littleton, N.H., Bennett Junior College, Millbrook, N.Y. and did further undergraduate liberal arts studies at the University of Colorado, Boulder. In the sixties, she was married for ten years to Jeremy Norton Sturges. At that time, she was a member of the Junior League of Bridgeport and worked in its Hobby Horse Shop, as well as with the International Institute of Bridgeport.
She began her interior decorating career with Ann Ward's Ivy Shop in Southport, and then founded her own business, Ellen Leeds Interiors, serving clients throughout Connecticut and other states. Her intricate sense of appropriate and tasteful color recommendations became of legendary quality. In the seventies and eighties, Ellen was devoted to area group singing. She was a member of The Pitch Pipers and, subsequently, A Touch of Class, performing at charity and service engagements and twice at the White House before President Reagan. She was regarded by her fellow members as the instinctively best pitch harmonizer and provided guitar accompaniment for the group repertoire. Her favorite sports were canoeing and expert skiing, in which she had a unique and graceful style and, also, recreational hiking of major trails in New England, including the Appalachian Trail.
Ellen's abiding pursuit, life long, was gardening and landscaping around her home, demonstrating her standards for setting and shrubbery selections, again, with her exacting sense of color. Her garden maintenance activity was thorough, educational and exemplary for all who shared her interest as well as her passion for flowers. She was a member of the Garden Club of Fairfield. Ellen is survived by six first cousins: Elizabeth Leeds Haines of Englewood, N.J., Richard Clark Barker of Portland, OR, Robert Barker of Athens, GA, Linda Leeds Scott of San Juan Bautista, CA, Richard Lambert Leeds of Mechanicsburg, PA, Thomas Fuller Leeds of Medfield, MA, and as well, by her former brother-in-law, long-time close friend and devoted companion of 17 years, David Kountze Sturges of Southport.
There are no calling hours and contributions are encouraged toward the Ellen Read Leeds Sturges Memorial Fund established with the Yale School of Medicine, Dept. of Gynecology/ Oncology, c/o Renee Luongo, 333 Cedar St,. New Haven, CT 06520. A memorial gathering for family and all friends will be held Sunday, May 22nd, at her home, with further details to be announced later in the spring. The Spear Miller Funeral Home, 39 South Benson Road, Fairfield, is in charge of the arrangements.