My Granduncle
Ralph Federick was the son of Ralph and Eugenia Barker my Great grandfather he was born in 1894. In 1882, Ralph and Eugenia moved from Connecticut to Florida to take a position as secretary and treasurer with the Madison Cotton Ginning Company, which owns the Phoenix Mills.
1910 Census has Ralph living at 143 Coleman Street with his mother and father.
1916 Ralph (22) filled out a WWI draft card – he was tall, slender, blue eyes, brown hair and not bald – (see Ancestry)
1917 Connecticut Military Census – Age 24, height 5′ 7″ weight 107. Do you have a serious disability: Yes . If so name it: Invalid.
1920 Census has Ralph (25) living on Coleman Street with his mother and father.
1924 his mother Eugenia died.
1928 his father died.
1930 Census has Ralph (36) living with Hubert and Eugenia Morfey and his occupation as machinist.
1938 – 1939 Ralph enters Battleboro Retreat.
F. died in 1943 when my dad was 14 years old. Dad doesn't remember
The middle name Frederick must have come from Eugenia Frear Robinson, Ralph's mother's father who was Frederick E. Robinson.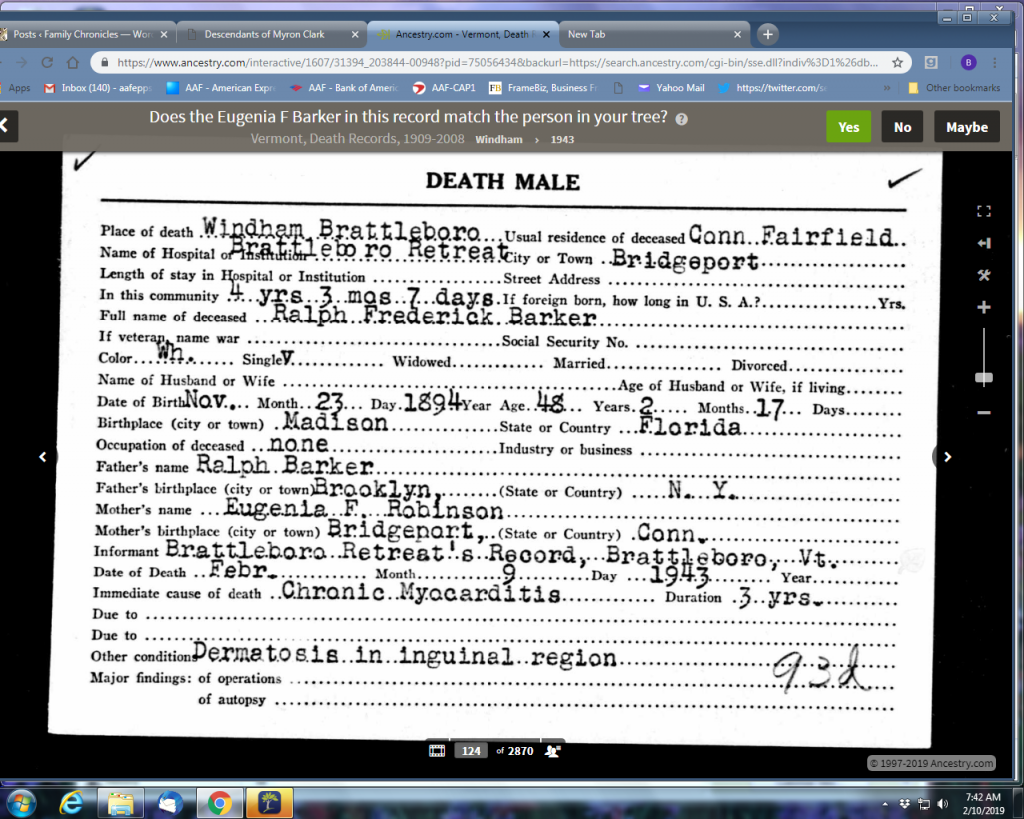 Many different environmental agents can trigger myocarditis including viral or bacterial infections, toxins, and drugs. The reasons why some persons recover and others do not is an area of active investigation.
The Brattleboro Retreat was founded in 1834 as the Vermont Asylum for the Insane through a $10,000 bequest left by Anna Hunt Marsh for the establishment of a psychiatric hospital that would exist independently and in perpetuity for the welfare of the mentally disordered. The institution was renamed as the Brattleboro Retreat in the late 19th century in order to eliminate confusion with the state-run Vermont State Asylum for the Insane.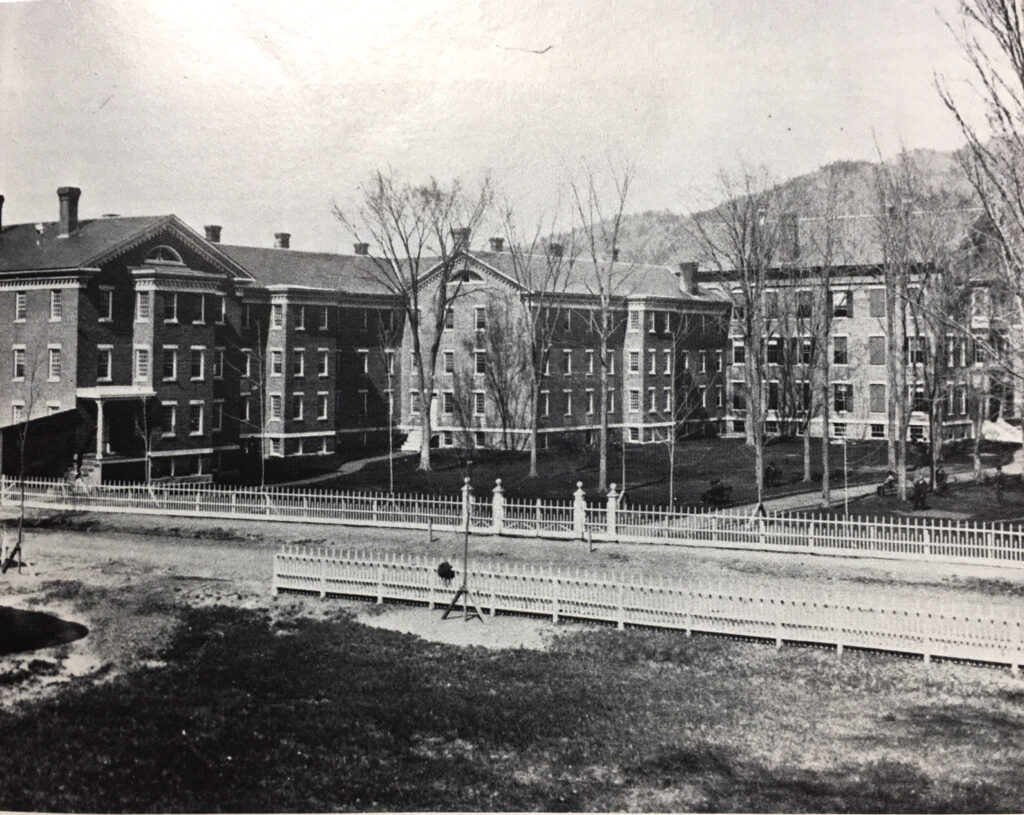 Taking its inspiration from the York Retreat in England, the retreat originated as a humane alternative to the otherwise demeaning and sometimes dangerous treatment of people with mental disorders. The focus on "moral treatment", an idea derived from a Quaker concept, introduced by William Tuke in the late 18th century, which approaches mental disorders as diseases and not as character flaws or the results of sins. This remains the institution's guiding philosophy.
For much of the 19th and 20th century, treatment methods emphasized fresh air, physical activity, educational enrichment, therapeutic farm and kitchen work, and supportive staff. Some of the techniques used at the retreat were influenced by the Quakers and Benjamin Rush, a physician and American Revolutionary War supporter.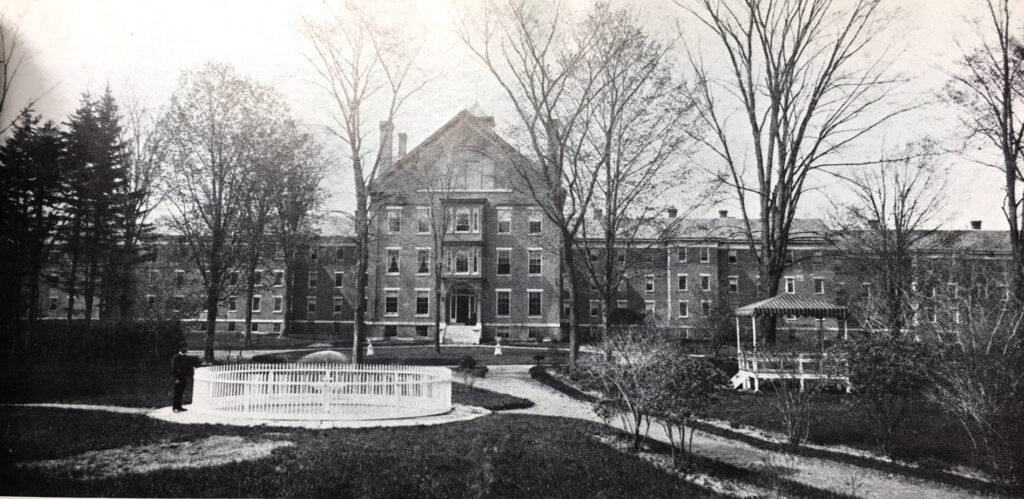 The Brattleboro Retreat has been known throughout its history for adhering to the concepts of moral treatment while integrating advanced methods of care. The administration established the following "firsts" among psychiatric hospitals in the U.S.: patient-produced newspaper, bowling alley, chapel, theater, gymnasium, recreation fields, patient chorus, book discussion groups, outing club, working hospital dairy farm, patient-managed enterprises, and the first swimming pool at a U.S. psychiatric hospital.
Patients enjoyed frequent outings and the community would often join the patients for events. The facility has some secure units but is not separated from the community by fencing. Many aspects of the Brattleboro Retreat's medical care and physical design have been adopted by hospitals around the world.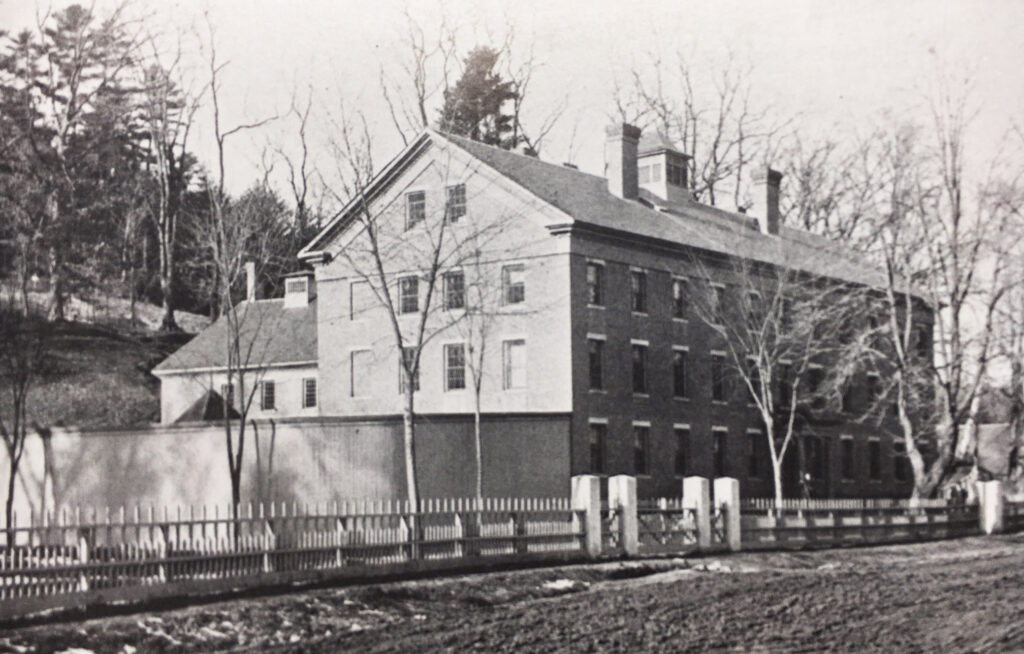 The retreat cautiously approached modern treatment modalities such as electroconvulsive therapy ("ECT") and utilized them in a fairly limited capacity. Today the retreat's ECT clinic is closed. Most patients have enjoyed a greater degree of freedom than at other institutions, with windowed bedrooms instead of cells or cages. Due to rapid construction, patients had large private rooms even as overcrowding became an issue at other hospitals, leading many historians to conclude that the Brattleboro Retreat is among few long-established psychiatric hospitals with an unblemished history. This dignity ended for many patients when state hospitals began to be built. Many long-term patients feared leaving their beloved home and tried to avoid transfer to state facilities. Unfortunately, some were relocated to new state hospitals against their wishes. This decrease in patient census was compounded by the loss of patients due to the development of mood stabilizing drugs. The hospital has used this open capacity for new programs such as specialty schools and outpatient resources. Recent innovative programs include a new inpatient unit for LGBT individuals, and a partial hospital/residential program for uniformed service professionals (corrections, fire, first responders, military, and police).
The hospital lacks the historical stigma associated with some psychiatric institutions due to its consistent focus on patients' individuality and fair treatment. A full staff of doctors, psychologists, psychiatric nurses, social workers, and other medical personnel continue this tradition of patient care.[