Weighing in at 9 lbs – 1 oz Joyce was born on Wednesday, March 20, 1929 at 3AM to Bessie O. and Louis R. Edwards. Joyce had two brothers to greet her into this world; Louis Renoud Jr. (age 5) and Gordon Sherman (age 4). The two boys were so hoping for another brother they decided to call Joyce 'Pete' a nickname they kept all through life.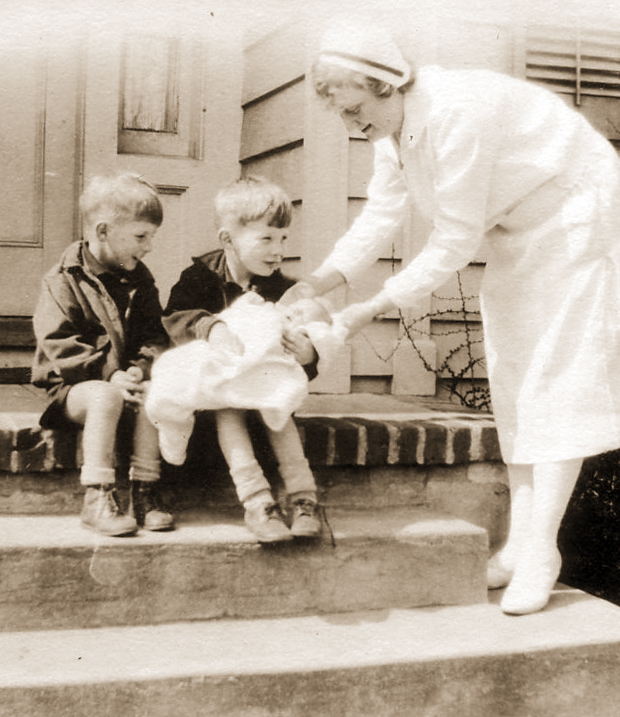 On August 25, 1930 Bess writes about her hair. " First hair trim. Didn't want to have her hair cut but, every barrette, ribbon or pin I put on her she takes off so she looks dreadful with hair in her eyes all the time. Took her down to Hovolands while Gordon got his hair cut and had it just trimmed in the front. Didn't have the sides or back touched as it just "seems" to curl up a bit – looks so cute with a bonnet on. Joyce cried when father put her in the chair and wouldn't have the apron on her at all. First time she has been downtown – would look in all of the show windows. Think most everybody stopped to look and talk to her fat legs and arms just make people notice her and say how cute she is."
Bessie and Louis lived at 588 Toilsome Hill Rd in Fairfield and also had a small house at the beach, I believe near Milford. At one trip to the beach when Joyce was 5 months old Bess writes in Joyce's baby book. " Laying on Jr's and Gordon's bed at the beach when they came in from swimming. They were drying themselves – Jr said to Gordon let me dry you back and started rubbing him quite hard. Joyce just looked at them and started in laughing as hard as could be. A little later Jr. said it again and again she laughed so hard just as though she knew what is was about."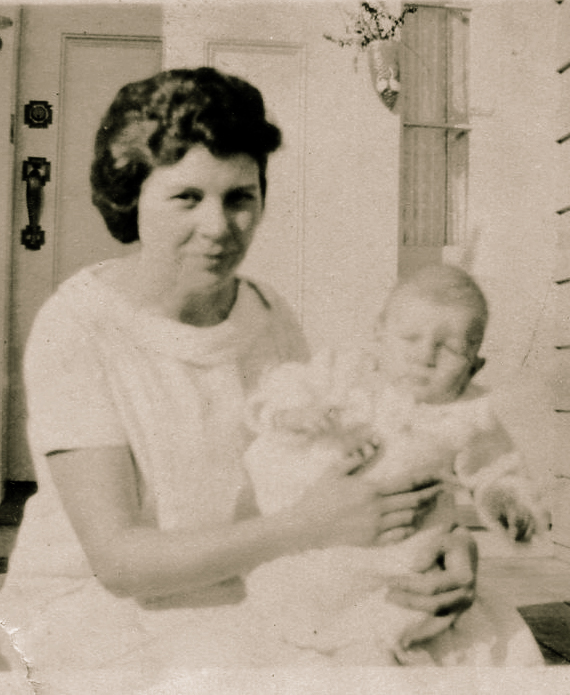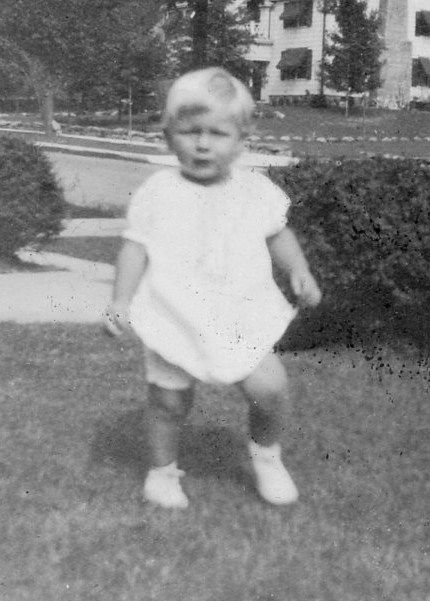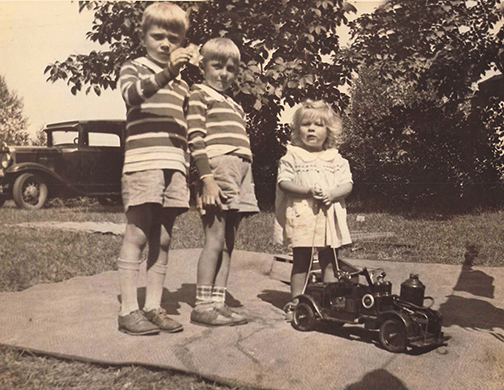 Our Blessed Baby crept for the first time.
At 5 month old left Joyce on a blanket in front of our porch door in living room and a few minutes later when I came in she was in front of the fire place about 12 feet – thinking she rolled on her stomach and then back on her back until she got there.
At 10 months in her kiddy car but goes backwards instead of forward. Can creep all over, but don't want her to as the boys leave everything on the floor and I am afraid she pick up something and get it in her mouth, 17 months old (walking) Aug 1930 – she walked across the kitchen floor. Gordon and Jr. got a great kick out of seeing her walk. Can't stop her now.
Favorite Toys
9 months old Christmas 1929 – small box of blocks – she loves to take them out and put them back again.
1 year and 4 months – would rather have the boys iron toys than any doll.
6 years – her bicycle and doll that really drinks water and has to be changed.
First Christmas
December 25, 1929, 9 months old. Mother and Junior and bed with scarlet fever. Daddy had to take care of the tree and all the gifts.
First Birthday
March 20, 1930 – Junior and Gordon wanted her to have an cake with a candle on it – so we did – guess they got more fun out of it than Joyce did – but next year when she is two she will no more with what it is about. Aunt Edith gave her some colored beads to play with, Aunt Glady and aunt minnie(?) some money. Boys gave er rattles and rag doll.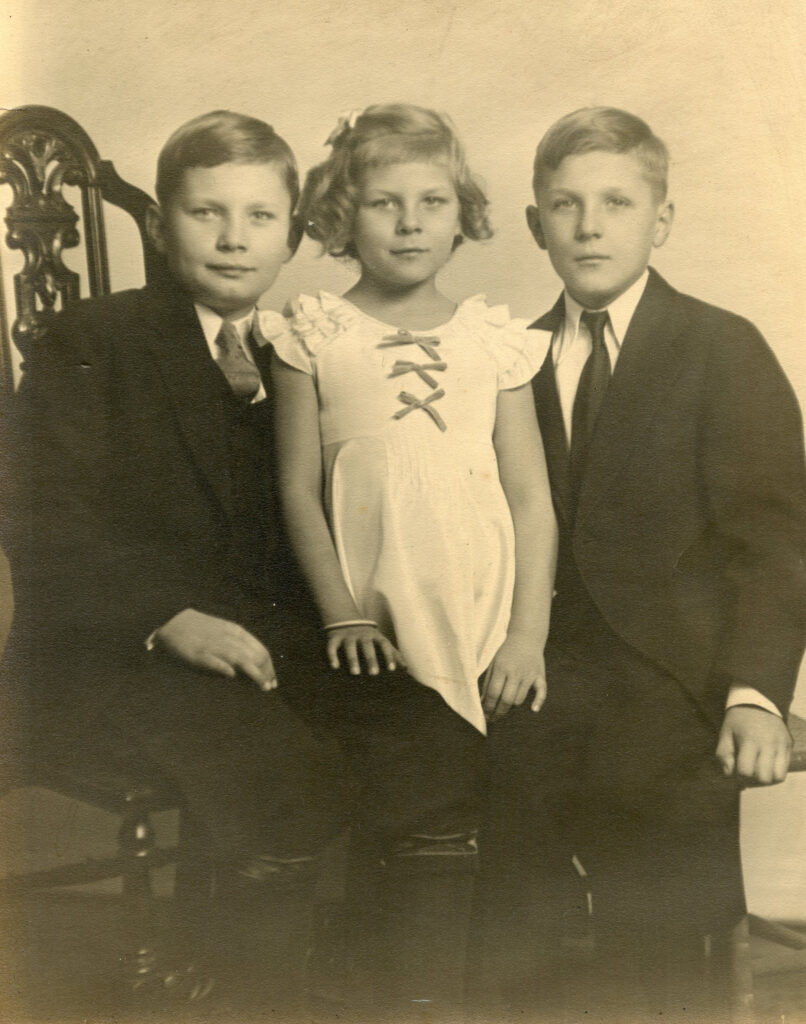 Mother's Notes
Jan 1930 Jr. Mother and Gordon all had scarlet fever – Dr. E.B Waldon thinks Joyce had a slight case of it. She had a rash, ran a temperature every night,, had a red throat just a day and tip of her tongue scarlet just for a day or two – wouldn't finish any of her bottles.
February 1931 Whooping cough caught from Jr. – Poor little girl was so sick. Had it more severe than the boys. We turned the radio off, just listened for the first whoop to run up to her bed. Lost every meal for 2 weeks serving(?) did seem to help. Poor child hasn't a chance of escaping a thing with her brothers bringing home everything.
1933 – Measles
1934 – Chicken Pox – left 2 small pox over top lip.
Baptized April 4, 1931 – Easter Eve at 4PM – wore a darling tea rose crepe dress smocked in blue and pink puffed sleeves edges in cream and lace which auntie Mae gave her for her birthday. White shoes socks and pink hair ribbon. Coral flannel coat flannel poked hat to match with scalloped brim. Her picture was taken in this dress when 3 years old.
—– End Baby Book
Growing up with 2 big brothers as rambunctious as Junior and Gordon, Joyce had no choice but to get tough. Once while trying to keep up with brothers snow sledding she hit a tree and broke both arms. Martha, Joyce's brother Gordon's wife, writes "Gordon loved he so much he named a son after her, 'Pete' and didn't get mad at her when she drove his car into a brook."

Joyce attended public schools up to high school then transferred to Cushing Academy a college preparatory school located in Ashburnham Massachusetts. The school was charted in 1865 and was coeducational since the beginning. After graduating Joyce went to Beaver College to study early childhood education. Beaver College was founded in 1853 as Beaver Women's Seminary located in Beaver Pennsylvania. By 1872 it had attended collegiate status, under the auspices of the Methodist Episcopal Church and was named Beaver College.
In response to 2012 reunion of the class of 1952 questionnaire Joyce answers the follow questions.
Personal: What have you been up to since graduation? First job was teaching first grade in Connecticut. Married and moved first to Pensacola and then Jacksonville, Florida, where I taught 4 and 5 year old classes and ended up director. After 28 years and 4 children, we moved to northern Virginia fir a 5-year stint then moved to Athens Georgia, where we remain today.
Family? Married George R.(Bob) Barker, April 25, 1953. We have 4 children: Karen (labor and delivery nurse in Atlanta), Bruce (owner of Athens Art and Frame with 3 shops in Athens), Diane (teacher of exceptional children in Tribune Kansas), and George (consulting forester in Tallassee Alabama). From these 4 and their spouses we have 17 grandchildren and two great grandchildren,
What is your most vivid memory of your college years? One of the most vivid event memories of my college years was the 1 competition of the annual Song contest, but more lasting were the people: having the same roommates for all four years, living in Grey Towers and waiting for the bus to take us to the other side, and meeting so many girls from different parts of the country was great and a valuable learning experience. Quite frankly, there are sooo many memories, it's hard to mention them all.