Relationship: Great Grandmother
Born: Apr 1863 In Germany
Died: 08 Sept 1927
Father: George Bloss – born around 1824 in Bavaria, Germany
Mother: Catherine
Julia arrived in America, from Germany with her parents, George and Catherine when she was an infant. Many did not believe she would survive the rigors of the trip. Her first husband was to a Yankee by the name of Geer, who was and alcoholic (this information was provided by Gladys when we went to visit her in Columbia, SC). Julia had one child with Mr. Geer and then divorced him, Julia then met and married Acheson O'Brien on March 11, 1891.

1880 Census Connecticut – New Haven – New Haven
Father: George Age: 56 Occupation: In Market Birth Place: Germany Father & Mother
Germany
1900 Census Connecticut – New Haven – New Haven
Birth Place: Germany
Home: 371 Grand Avenue
Household members:
Acheson O' Brien – 48
Julia O' Brien – 37
Robert O 'Brien – 17
Trena Gier – 8
Bessie O' Brien – 6
1910 Census Connecticut – Fairfield – Bridgeport – District 0025
Daniel Strecker – Head, Age 25 Born in Germany with mother and father, Occupation:
Tool Grinder.
Julia – wife, Age: 41, Occupation: None
Bessie O' Brien – Step daughter, Age: 16,Occupation: Stenographer in the Brace Factory
Julia – Step daughter, Age: 8 Occupation: None

Julia never learned to read or write and her mark on documents was an X.
US Indexed County Land Ownership Maps, 1860-1918 for Julia A Bloss New York, Kings 1890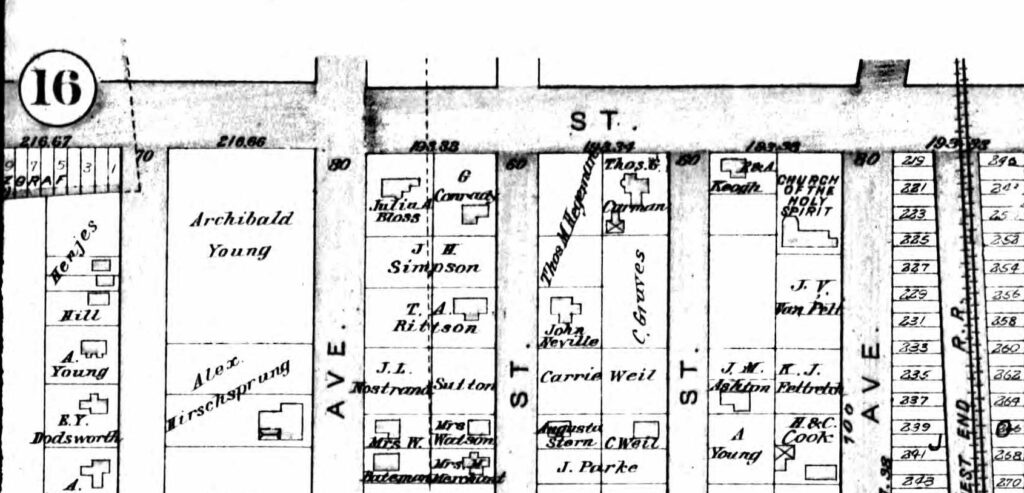 Julia married a man named Geer or Gier and they had one child.
Trena Goldy Geer Born