Some time around 2005 and 2007 I contacted the Grace Church in New York about my great, great aunt Sarah Barker and they were very helpful and provided a lot of information about her time at the church. Including;
A note saying: Records as a student are missing.
From the card file: Date of entrance …. 1890
Address: Bridgeport, Conn.
Education: Grove Hall, New Haven, Conn. Further research found this information from:
The Whitney Library – New Haven Museum – Manuscript Register MSS#17 – School Records – Finding Aid Revised by James W. Campbell – 2016
Private Schools New Haven
Grove Hall – Journal, Harriet Holly, 1823
(removed from the Dana Collection, v. 106 p.22)
Ordered: Oct. 2, 1892 at Grace Church, NY Conn. by the Rt. Rev. Henry C. Potter, D.D. Bishop of New York.
Work: Grace Parrish

N.B. Sarah K. Barker was the first student of the NYTSD set apart a deaconess. Two others were set apart at the same service:
Mary E. Greene
Kate Newell
The forth member of the first class, Alice Goodeve, was unable to be present. She was set apart on November 10th.

According to a newspaper clipping, the early graduates received a Medal from Dr. Huntington and the certificates from Deam McKim at the Chancel in the Chantry where the first "Service for Commencement Day" was held at 10AM, October 2, 1892.
Information from Nat'l Conf files:
Deaconess Sarah Kirtland Barker
Position: Grace Church, NY …… 1892 – 1912
Record of 1917: "Deaconess Emerita, Grace Church, N.Y ." "Retired; unable to write on account of 'eye trouble' " "Died Sept 28. 1944" , age 85.
Other information about Sarah
Sarah was born on 28 Aug 1859 – she would have been 31 when she joined the Church – she left the church in 1917, at the age of 58, because of eye trouble. My dad, George Robinson Barker, remembers visiting her as a child and her wearing a green eye patch.
The US City Directories of 1943 has Deaconess Sarah Kirtland Barker living at 50 Paradise Pl – this house was about 6 miles away from her brother, Ralph Barker's, house at 143 Coleman St . Sarah died on September 28, 1944. The Isaac Lewis House is a historic house at 50 Paradise Green Places in Stratford, Connecticut.
It is a large two story wood frame structure, five bays wide, with a porch extending across its front and a lantern section raised above its shallow-pitch hip roof. The porch is supported by columns with Corinthian capitals, and has a low balustrade with turned balusters.
The eave of the main roof is deep and studded with jigsawn brackets. A 20th century addition extends to the rear. Built c. 1858-59, it is a fine local example of Italianate architecture. It was built by Isaac Lewis, who made his fortune doing construction work for John Jacob Astor III and other wealthy New York City elites.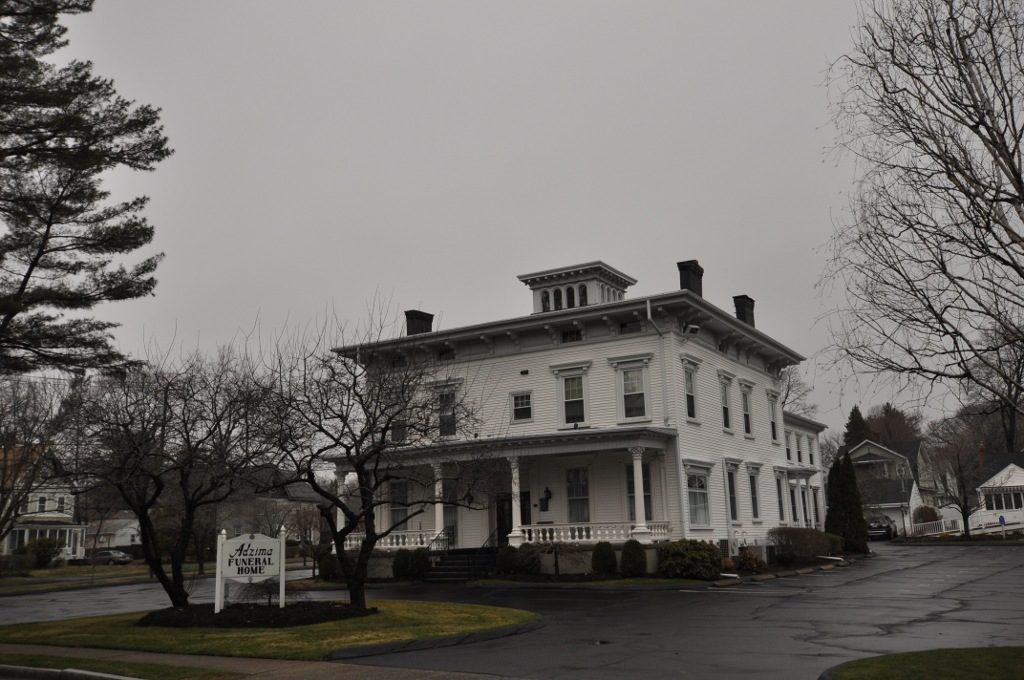 The house was listed on the National Register of Historic Places in 1991. It is currently used as a funeral home.